So today has been great! We had a very yummy, healthy lunch. The kids assisted me in making a 3 color rotini pasta salad and cantaloupe kabobs :) We enjoyed a nice relaxing day today, just hanging out at home. Play-date for tomorrow with some friends is planned at the park and than off to the library. Since we hung out around here today, and I had no eggs, I had to settle for cupcake recipes I would like to make and pictures for inspiration :) While searching I found some yummy and adorable cupcake goodness! Here are some of the things I came across:
this looks scruptious!!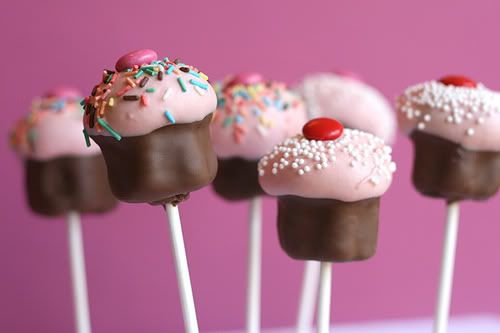 Bakerella's famous cupcake cake pops (these are on the list of to-do's tomorrow)
adorable necklace from etsy shop 26Seven
another adorable necklace. this one by etsy shop Sarita Jewelry Box
I KNOW!! Way too adorable for words...
The kids are summoning me for a stuffed pillow-butt competition of who's is bigger. Apparently I am the judge(insert eye rolling smiley here). Oh the stand in's I have to do when hubby is at work.
HAHAHAHA
In other news, the kids and I will be making some cake pops tomorrow and since we have located my camera battery charger, there will be lots of pics!!Stay tuned and have a great night!!